ETC (Electronic Toll Collection System)is a system that allows drivers to automatically pay tolls without stopping their vehicle at a toll booth. The system uses wireless communication between ETC onboard equipment (OBE) installed in the vehicle and roadside devices placed at the collection point.
PKCELL offers high-performance batteries for ETC onboard equipment, And PKCELL's "Backup batteries" solution extends service life and ensures the lowest power consumption.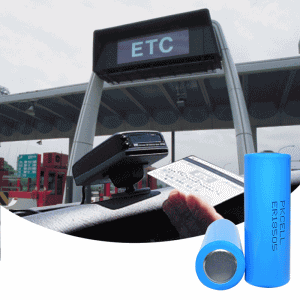 IoT (Internet of Things) refers to a network capable of intelligently identifying, positioning, monitoring, and managing devices.
The Internet of Things (IoT) is an emerging field attracting attention from all walks of life, with a wide range of applications, including consumer applications, industrial applications, agricultural applications, commercial applications, transportation, and so on.
PKCELL's battery solutions meet the power requirements for any IoT hardware. Whether for industrial, commercial, or residential applications, PKCELL's ER, CR, and other serial battery products, with customization options available, are the smart choice for IoT applications.PKCELL batteries offer the performance, quality, longevity, and autonomous operation needed to power any kind of smart, connected device.
Global Positioning Systems (GPS) can provide accurate location data for all kinds of terrestrial and avian wildlife research and management projects. GPS tracking technology has been adopted in the management of movable assets. The battery type chosen for the product is dependent on the device's application environment and use, the tracking systems are normally powered by an individual battery with two power supply solutions: a rechargeable Li-ion polymer battery, or a non-rechargeable lithium thionyl chloride battery.
Working with high-quality batteries, and optimized energy usage.   PKCELL is a true partner in your business success.
Power Solution For Utility Smart Meters
The electric meter is a meter used to measure electrical energy. With the development of science and technology, smart meters are widely used for household electricity and commercial electricity consumption, etc.
Smart meters communicate information to consumers for a clearer understanding of consumer behavior, and to electricity suppliers for system monitoring and customer billing. PKCELL Battery solution for Smart meters helps become more energy-efficient and environmentally friendly.
Power Solution For Security Devices
PKCELL has been committed to safe power solutions for smart security, like gas detectors, Magnetic door alarms, Smart door locks, Smart smoke detectors, wireless emergency alarms, etc. including cylindrical Li-MnO2 batteries for smart security, especially in NB-IoT、LoRa, and small wireless application modes.
By serving as a manufacturer and service provider.  We have built & maintained our good reputable position in more than 30 countries and areas in the world. Also, our team provides the most efficient and budget-friendly battery solution services. 
Medical devices and equipment today require increased capabilities and portability packaged in smaller, sleeker designs. such as glucose meters, electronic thermometers, hearing aids, medical monitors, and more. The power solutions that bring these technological advances to life also require less space while providing more energy and longer run times, including higher energy density, lighter weight, longer cycle life, better battery capacity retention characteristics, and a wider applicable temperature range. CR and lithium battery is the best solution.
With the maturity of lithium battery research and development technology and the increase of mobile work requirements for portable medical devices, lithium batteries are gradually taking the lead in the medical device industry with their absolute advantages of high voltage, high energy, and long life.
Power Solution For Ocean Equipment
PKCELL provides comprehensive power solutions for marine equipment and equipment, such as life jacket lights, sea buoys, etc. PKCELL's CR and other battery products offer customized options, making it a wise choice for marine equipment applications
We have participated in many projects that require reliable and durable batteries that can withstand extreme conditions and ensure trouble-free operation of the equipment.
We provide a wide range of primary and rechargeable chemicals, from primary alkaline, lithium sulfite chloride, and lithium manganese dioxide to rechargeable lithium ions and lithium iron phosphate, covering all voltage requirements. Our expert team can provide appropriate certificate recommendations for your application. In addition, our battery pack and batteries have passed UN38.3 certification and can be safely transported worldwide.